SCCM 2012 on Server 2016

After successfully installing SCCM 2012 on a Server 2016 in my home lab I had some problems with the Application Catalog.

The problem I had was that I couldn't install the Application Catalog.
When digging in the CM Trace Log Tool I've discovered that a MSI package couldn't install on the server, I tried to install it by double click the MSI file and discovered that the MSI couldn't handle IIS Version 10, it gave me the error "Application Web Service requires IIS 7 or higher".
After some search on the web, I found a tool named Orca MSI editor to edit the MSI files.
Install Orca and make a copy of the MSI files below
Awebsvc.msi
Portalweb.msi
These files are in the following directory:
C:\Program Files\Microsoft Configuration Manager\bin\X64
Open each copy of the file in Orca and edit the following line:
From: (NOT REMOVE) AND (IISVERSION < "#7")
To: (NOT REMOVE) AND (IISVERSION < "#10")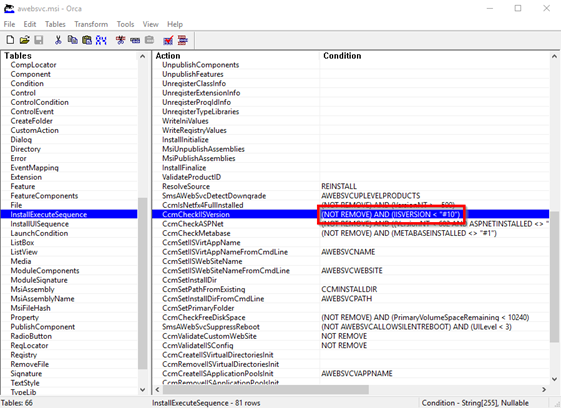 Save the MSI files and replace the files on the server.
After replacing the MSI files you can safely install the following roles on the SCCM server:
Application Catalog web service point
Application Catalog website point
To verify that SCCM installed the roles in IIS open the IIS Manager and expand the "Default Web Site"
You'll see that there will be a CMApplicationCatalog and a CMApplicationCatalogSvc